Peniel
Find the hot spots on the map, or click here for pictures of the area, or here for the map alone in a separate window.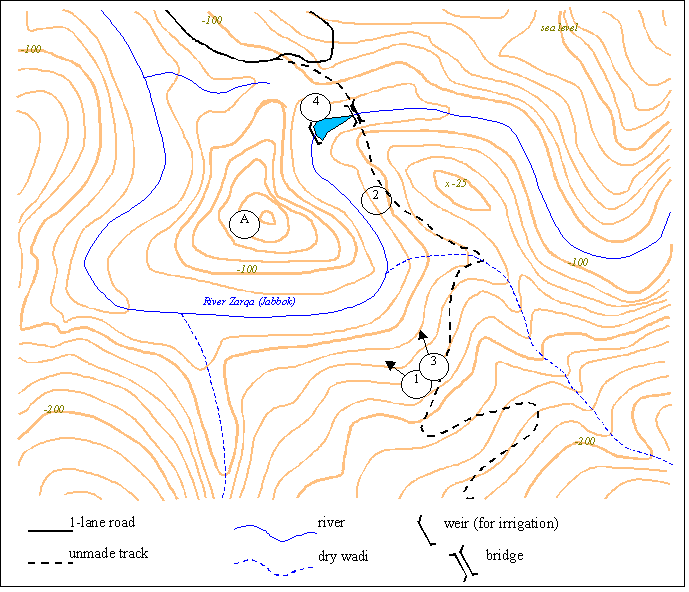 Jacob
Peniel (also known as Penuel) is first mentioned in the Bible on Jacob's return from Haran. Having sent his family across the river he remained, and in Gen.32:24 we are told that "Jacob was left alone, and a man wrestled with him till daybreak."
As a consequence of this, "Jacob called the place Peniel,..."
On the river Zarqa is a possible site for Peniel. There are actually two adjacent hills, both of them showing signs of occupation, which are known as 'Tel Dhahab el-Sharqi' (Tell of Gold, East) and 'el-Gharbi' (West). It is interesting to consider Jacob's route as he was probably coming downstream (from the East).

Gideon
Peniel is then mentioned in Judges 8, where Gideon is pursuing the kings of Midian. Succoth (a few miles downstream from this site) and Peniel both refused him aid. Judges 12:17 relates how Gideon made good his threat to pull down Peniel's tower.

Jeroboam
Peniel is mentioned again in 1 Kings 12. The city was strengthened by Jeroboam, Solomon's successor. The base of a tower is still visible on the slopes of the eastern tell, just below the track. It is best seen from across the river on Tell El-Gharbi. A limestone cliff below it emphasizes its height above the river.
Cave
In the cliff beneath the tower has been constructed a tunnel. It runs into the hillside for about 70 meters. Exploration is difficult because of the bats that have made their home there!

Tea
I was completing a difficult hike one day when I heard a cry "Ashrab shay!" (Drink tea). I followed the boy to his family's tent (4) where I was given water (very grateful) and tea. My Arabic was stretched to breaking point (easily done!).

Temple
On Tell El-Gharbi the settlement must have been quite extensive. Pottery is abundant, walls and ruined buildings are evident, and on the summit are the ruins of some kind of temple. Six columns, now toppled, are aligned in a N-S direction. The columns must have stood 3-4m high, and are made up of stones that are about 30cm deep. Unusually, each stone has a heart-shaped cross-section.

The River Zarqa (nee Jabbok)
Contemporary meets ancient at the foot of the tell. A catchment weir diverts water through a screening system, and this then is piped down the valley and used for irrigation. About 10km upstream is the King Talal Dam, which can hold 70 MCM of water. Much of it comes from Amman, and its quality depends upon the effectiveness of the water treatment facilities.

Back to the Clarks' Web Page, and more e-tours of the Holy Land.