Amman Citadel

As Rabbah Ammon, the capital city of the Ammonites, Amman figures in the Biblical record, though King David does not come through with great credit: In the spring, at the time when kings go off to war, David sent Joab out with the king's men and the whole Israelite army. They destroyed the Ammonites and besieged Rabbah. But David remained in Jerusalem.(2 Sam.11:1)

After sleeping with Bathsheba, the wife of Uriah, one of Joab's soldiers, David was told that she was pregnant. Recalling Uriah, the honest soldier refused to spend any time at home, and David sent him back to the troops with his death warrant. In themorning David wrote a letter to Joab and sent it with Uriah. In it he wrote, "Put Uriah in the front line where the fighting is fiercest. Then withdraw from him so he will be struck down and die." (2 Sam.11:14-15)

In 2 Samuel 12:26-28 we read: Meanwhile Joab fought against Rabbah of the Ammonites and captured the royal citadel. Joab then sent messengers to David saying, "I have fought against Rabbah and taken its water supply. Now muster the rest of the troops and besiege the city and capture it. Otherwise I will take the city and it will be named after me." So David mustered his entire army and went to Rabbah, and attacked and captured it.

Find the hot spots on the map, or click here for even more pictures of the area, or here for the map alone in a separate window.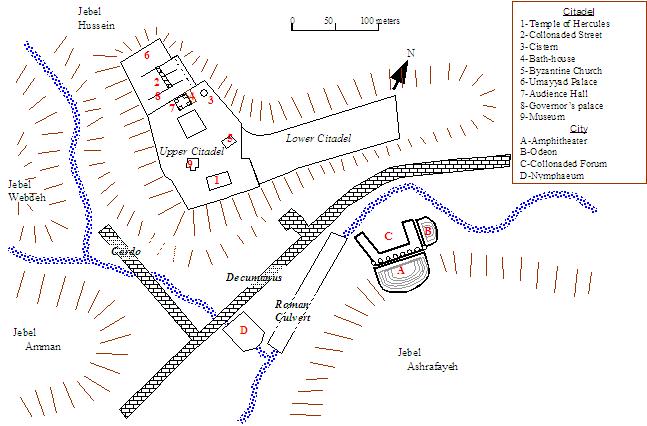 Back to the Clarks' Web Page, and more e-tours of the Holy Land.